World War II
The Imitation Game
"The Imitation Game" begins where "Cabaret" left off; we are taken from the rise of the Nazi party to the point where it begins overt war. With its incredible military strength, especially the action of the U-boat, or submarines, and its superior military communications network, Germany seemed unbeatable through the first two years of the war.
British military intelligence knew that if they could decrypt the German messages, they would have a significant advantage. Alan Turing, the creator of the digital computer, designed the machine that broke the ENIGMA code. The real plot of the movie begins once the code is broken; if every decrypted message is acted upon, the Germans will know that the code has been broken and will devise a new one. Accordingly, the British decryption team develops a sophisticated statistical analysis offsetting the likelihood of success with the likelihood of discovery. This system proved to be so efficient that Britain kept secret the success of breaking the ENIGMA code for another 50 years, in case Germany should try to dominate Europe for a third time.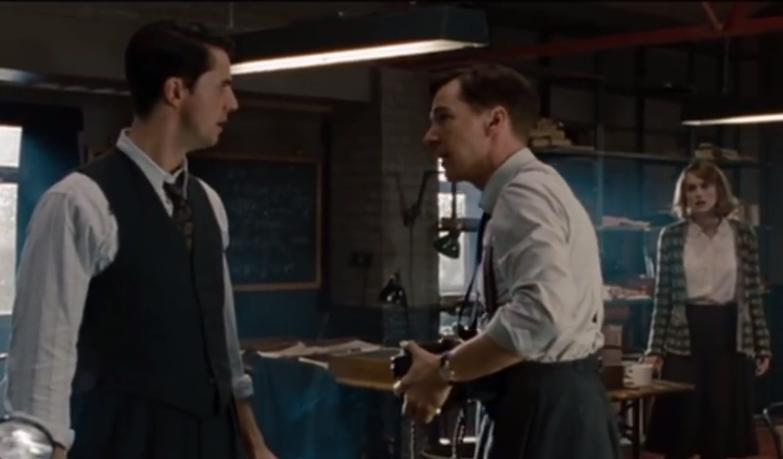 Along with showing the harsh realities of the war, the story touches on the restrictions and punishments imposed on women and gay men.
Aside from the enormous success of the ENIGMA code,the movie raises two points that are crucial to an examination of the history of World War II, and to an analysis of history in general:
The code name Boniface was used as a cover name for Ultra. In order to ensure that the successful code-breaking did not become apparent to the Germans, British intelligence created a fictional MI6 master spy, Boniface, who controlled a fictional series of agents throughout Germany. Information obtained through code-breaking was often attributed to the human intelligence from the Boniface network.[3][4]

The existence of Ultra was kept secret for many years after the war. After it was revealed in the middle 1970s, historians have altered the historiography of World War II. https://en.wikipedia.org/wiki/Ultra
To the extent that "fake news" was invented to explain what was actually the result of cryptographers and mathematicians, will we ever know the actual history of World War II? Which stories of bravery were we taught that were actually victories of statistics? While "The Imitation Game" is supposed to show us the genius of Alan Turing and his later persecution for being gay, it also shows us that control of the media and our reactions to it existed before Donald Trump was even born.

Julia
Lillian Hellman says of her memoirs that details may have been blurred or changed, as romantic memories (as well as painful ones) so often are, but the essentials of the stories, the people, and the events and the memories of them, are as real as if our brains had not changed the particulars of the story. Hellman's story "Julia" is one of those stories. She recalls a wealthy friend from her childhood and college years, starting in New York, moving to New Orleans, while Julia went to Europe to be educated first at Cambridge and then in Austria. Julia becomes a fifth columnist during the Nazi resistance, and is murdered.
Many people claim that Hellman's recounting of the story of Julia is an entire fiction. Pentimento (book) - Wikipedia Some say that "Julia" is another person altogether, not an acquaintance of Hellman's. Nonetheless, the account of her trip to Moscow as part of an arts cultural exchange, her travels with Dorothy Parker, her detour through Berlin, and the scrutiny of her travels (which could possibly have been simply because she was a Jew traveling through Europe during World War II) are all documented as truth. So whether the story of Julia is romanticized, or simply whether the details, secretive as they must have been, were not well known to the many critics of the movie, will never be known. But someone fought Hitler; people smuggled in money and risked their lives. So whether fact or fiction as to these people, the story is a truth about the Resistance during World War II.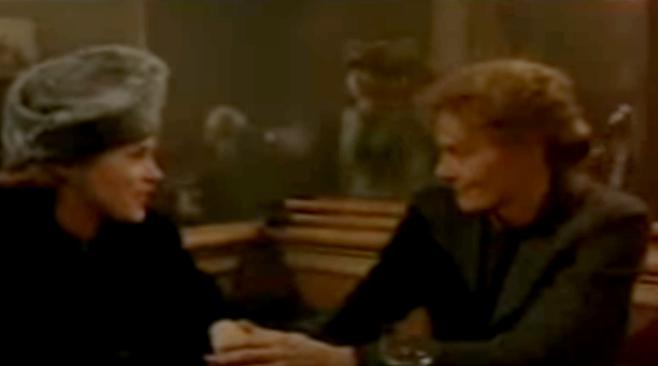 Playing For Time
Fania Fénelon was a French pianist, composer and cabaret singer, whose survival of the Women's Orchestra of Auschwitz and the Holocaust was made into a television film, Playing For Time.
Like so many stories of the prisoners and survivors of the Nazi concentration camps, Fénelon's story is surrounded with controversy, acclaim, and bitterness. In order to survive in the prison camp at Auschwitz, Fénelon agreed to lead the women's orchestra who played for the Nazi hierarchy of the camp and illustrious visitors.
Is there nobility in fighting to stay alive and helping other members of the orchestra do so? Is there cowardice in having supported the Nazi morale in order to save your own life? There are no answers to these questions; but we are fortunate to have a movie honest enough to raise them.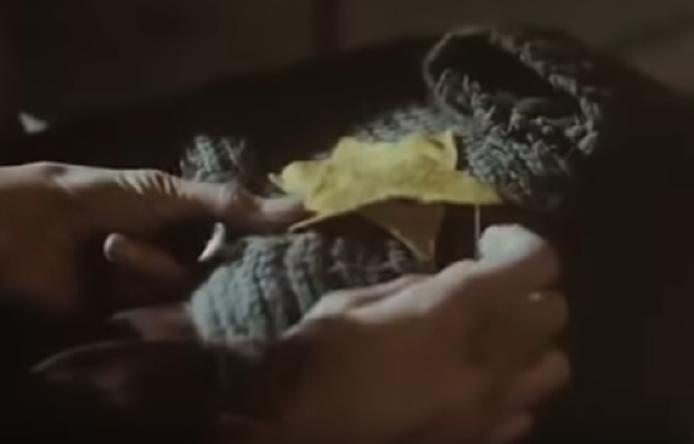 Although Europe was at war much longer than the United States was, and very little damage was done to the actual United States' land, our sending soldiers, food, weaponry, and money had its own impact on the United States. Of course, the patriotic morale that was the story during the war (as presented in this clip from "Yankee Doodle Dandy") didn't end on D-Day.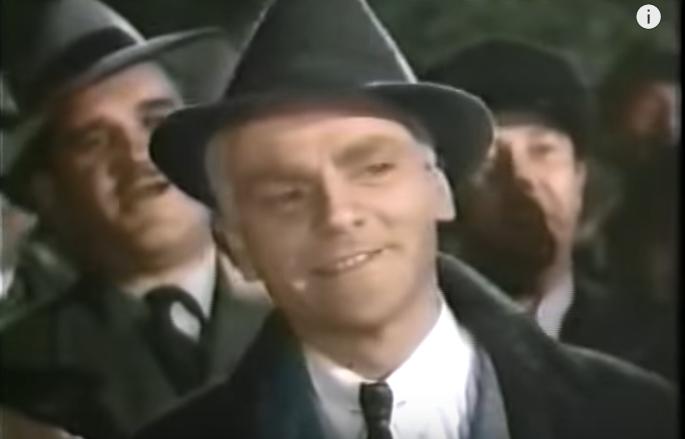 The following films show issues involving the United States after the war ended.
A League of Their Own
"A League of Their Own" (1992) is a sugar-coated docudrama whose socially important story is in the background.
In 2012, A League of Their Own was selected for preservation in the United States National Film Registry by the Library of Congress as being "culturally, historically, or aesthetically significant."
I didn't realize how very important this movie was until I heard Siskel and Ebert say that Madonna's role in the movie was totally irrelevant. That analysis told me they missed the entire point of the movie: that women's baseball, like women's jobs in factories during World War II, was a revolutionary chance for women to break out of century-old molds and take an all-too-brief not-quite-equal role in society.
The main story, of a women's professional baseball league that was started when the men were off to war and continued for about a decade, is fun, and might be nothing more than summer entertainment, until you notice Tom Hanks and John Lovitz star in this film about women. I generally take that as a hint that there's something more to look out for than what is being hyped for the audience.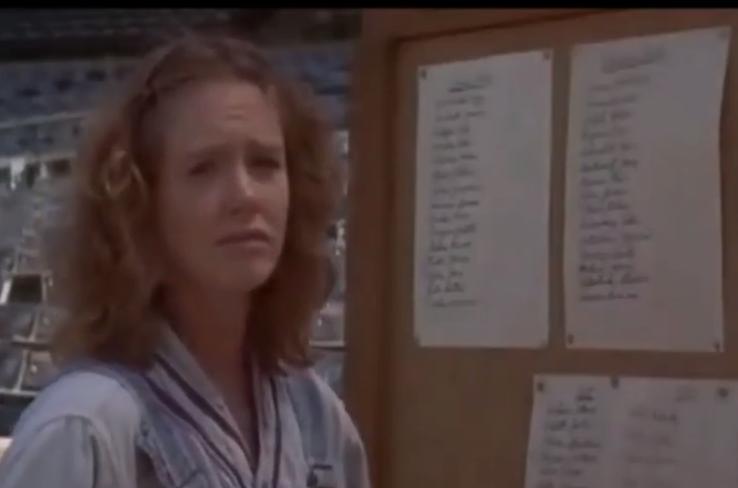 Once you look beyond the cute story of Geena Davis and Lori Petty, the sisters whose rivalry follows them on and off the baseball field, you see attitudes of women and about women in the World War II era. One woman can't tell if she made the team or not, because she's illiterate, and someone else has to go read the team roster for. The character portrayed by Rosie O'Donnell has settled for a boyfriend who's both ugly and lazy, because that's all "a girl like her" deserves. Her friend Madonna shows the flip side of the same coin; an attractive single woman who supports yourself as a "taxi dancer," a woman who works at a ballroom dancing with half drunken men who feel that they have the right to grope her for a dime a dance. One woman is going to be left behind because she's not pretty enough; and black women are totally excluded, no matter how good a pitching arm they have.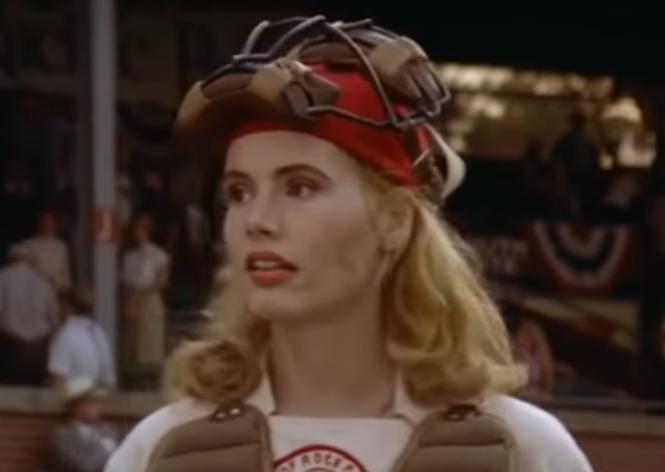 Other more general attitudes that might surprise the younger generation are also worth noting; the young ladies are chaperoned and given charm classes; they have to wear attractive dresses while playing baseball; and a certain percentage of the primarily male audience comes as much to heckle the girls as to watch baseball.

Judgment at Nuremberg
This iconic film, rated an 8.3 by IMDb, has a place in history and on your "Must See" list for three reasons:

After every major historic event, there seems to be a period during which the topic is just off-limits cinematically; emotions and memories are too raw, controversy is too hot, and we haven't reached a sufficient distance to look back and see a sense of something whole. Then, a decade or so later, we are willing to try to make sense out of an assassination, a war, a tragedy, that is finally sufficiently distant that we can see it with some pretense of objectivity. Judgment at Nuremberg is the first such movie about the military tribunals that sentenced German officials to prison or to death.

Additionally, the very existence of such a tribunal was considered as perhaps not legal: Nuremberg trials [Wiki]. Although the International Criminal Court at the Hague has been established by members of the United Nations, it was not approved until 2002: International Criminal Court [Wiki]. Ironically, the United States was one of the countries abstaining from the passage of this law. There was sufficient support for the earliest of the trials that public sentiment made petty questions like legality irrelevant. This film depicts the last of the trials, when many people in America and Europe were willing to let go of the vengeance against judges who sentenced people to prison or to sterilization, but who were not directly involved in the concentration camps. According to the movie, the rising antipathy against Russia and the seeds of the Cold War caused American political and military leaders to want a few more allies in Europe, rather than enemies.
With a stellar cast, numerous film awards and nominations, and a legal issue that has not been resolved to this day, there's just no reason to skip this movie. Many other films have portrayed elements of the Holocaust; but only "Judgment at Nuremberg" deals with the legal aspects of international judgments about acts of war.

This speech inadvertently offers insight into the spirit in which Donald Trump was elected president: a feeling of failure and inferiority and the need for a scapegoat.
The House I Live In
Frank Sinatra is more famous for his songs than for his movies, but he won his first Academy Award in a specially created category that later became Documentary Short Subject, for his work in opposing racial and religious prejudice: This documentary was made in 1945, as anti-Semitism in America continued (continues?) despite the war.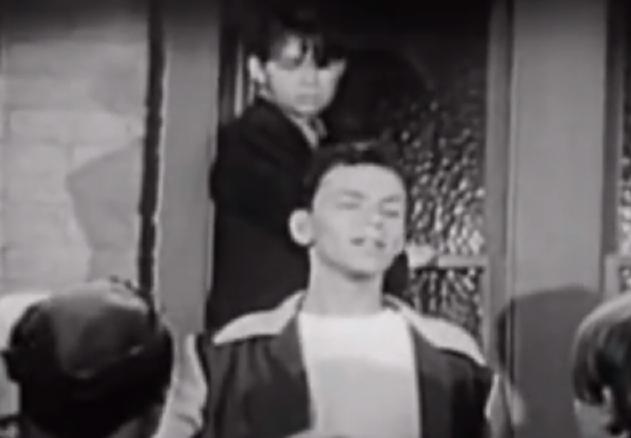 [the opening song ends at 2:30, and that's where the story begins.]