Life in the Big City
According to latest population figures (2018), there are about 325 million people in the United States. Over 10% of them live in just two metropolitan areas – the New York City MSA and the Los Angeles MSA. If you keep adding, you'll find that more than 25% of the nation's population lives in the top 10 cities. Fully a third of the population of the United States lives in 15 major metropolitan areas:
| | | |
| --- | --- | --- |
| | New York-Newark-Jersey City, NY-NJ-PA MSA | 19,979,477 |
| | Los Angeles-Long Beach-Anaheim, CA MSA | 13,291,486 |
| | Chicago-Naperville-Elgin, IL-IN-WI MSA | 9,498,716 |
| | Dallas-Fort Worth-Arlington, TX MSA | 7,539,711 |
| | Houston-The Woodlands-Sugar Land, TX MSA | 6,997,384 |
| | Washington-Arlington-Alexandria,VA-MD-WV MSA | 6,249,950 |
| | Miami-Fort Lauderdale-Pompano Beach, FL MSA | 6,198,782 |
| | Philadelphia-Camden-Wilmington, PA-NJ-DE-MD MSA | 6,096,372 |
| | Atlanta-Sandy Springs-Alpharetta, GA MSA | 5,949,951 |
| | Boston-Cambridge-Newton, MA-NH MSA | 4,875,390 |
| | Phoenix-Mesa-Chandler, AZ MSA | 4,857,962 |
| | San Francisco-Oakland-Berkeley, CA MSA | 4,729,484 |
| | Riverside-San Bernardino-Ontario, CA MSA | 4,622,361 |
| | Detroit-Warren-Dearborn, MI MSA | 4,326,442 |
| | Seattle-Tacoma-Bellevue, WA MSA | 3,939,363 |
| | Total | 109,152,831 |
That means that a lot of people who think they've experienced urban life have experienced it in a different manner from the people who live in Metropolis. All those places like Phoenix, Cleveland, Pittsburgh, Richmond, Salt Lake City – places that think they're big cities – aren't really, and the people who live in them don't really know what life is like in the fast lane.
These movies won't really give you a look at New York or Los Angeles in 2020; films are rarely meant to show you the sleazy side of the city, and they are necessarily out of date before they're made. But we're going to take a look at the life that people in Omaha Nebraska or Mumbai, India have never seen. It might help you to see how Donald Trump could talk all those people into voting for him.
Witness
"Witness" is a good starting point, because it contrasts life in Philadelphia with life in an Amish community about 60 miles outside of Philadelphia – and it might as well be in another country altogether. In fact, it is, in a manner of speaking: "Pennsylvania Dutch Country" actually refers to the German word "Deutsche." The Amish, or Pennsylvania Dutch, don't use electricity, and may not have indoor plumbing.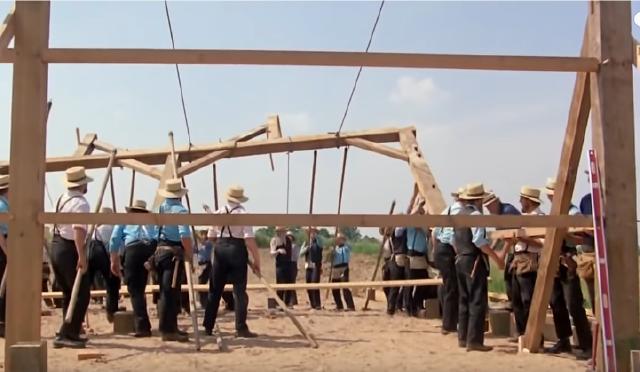 So when a Pennsylvania Dutch mother and child get caught up in a murder at Philadelphia's 30th St., Station, cultures collide at an alarming rate.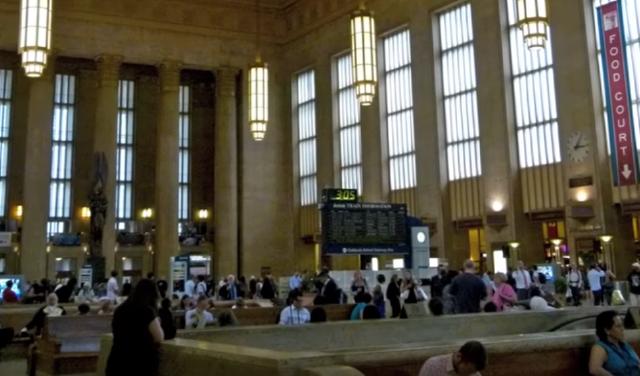 [This building is used in the movie, but this scene is not from the film.]
The Client
Louisiana is another place where you can find the crime and grime of the city just a few miles from rural isolation. But "rural" in Louisiana doesn't mean dairy farms and barnraisings; it means kudzu and crocodiles in the Bayou. This film, adapted from a John Grisham novel, show two kids who witness a suicide. The New Orleans Mafia boss suspects that the kids know where the bodies are buried, and sends Barry "The Blade" Muldano to "take care" of the situation. Barry subcontracts the job out to his friend with an equally sharp blade.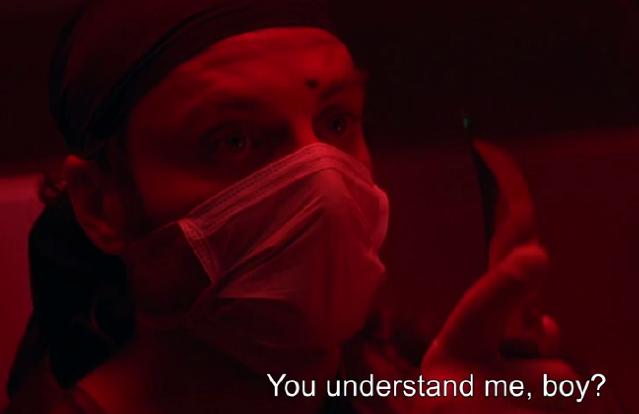 I don't know whether this is actually more grisly than "Witness," or that it simply because I'm from Philadelphia and I'm a lot more comfortable dealing with bloody murders and 30th St., Station than I am with swamps. Also, in "Witness" there are some bad cops. In "The Client," there are bad cops, lawyers, feds, and clients.
Life in the city may not always be this bad, but the sad truth is that sometimes it is.

My Cousin Vinny
"My Cousin Vinny" gives us the same message, but as a grand comedy. Vinny and his fiancée Lisa (Mona Lisa Vito, that is) travel from New York to Alabama for Vinny's first real trial – defending his cousin against a murder charge.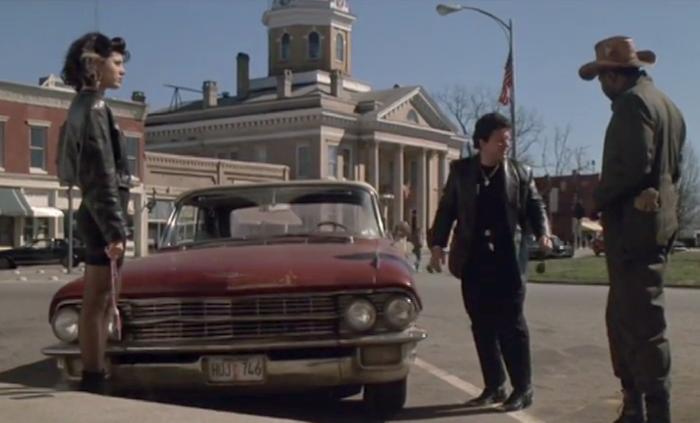 Imagine four people who beamed in from a Third World country – Brooklyn – to a small, stereotyped southern town, and let the curses fly. Since I currently live in a town much like this one, I can promise you that the copyright might be 30 years old, but the attitudes are here today.
Working Girl
"Working Girl" Is one of those movies like "Gentlemen's Agreement" that could be the basis of a whole course. This could be a movie about the degree to which success is a matter of attitude. It could be about how fiercely people will fight when a a large group of people are fighting for a small piece of the pie. It could also be what it's offered for here: a look at professional life in the big city: conducting business over drinks at midnight, wearing$1,000 trenchcoats, and learning how to stab someone in the back with a smile on your face.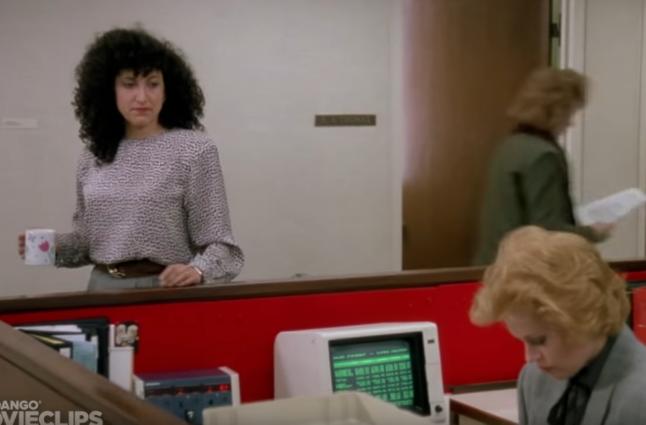 Of course, "Working Girl" was made 30 years ago. You might think that means that women don't have to fight so hard to succeed; if you think that, you're probably wrong. What it does mean is that the economy has tanked in a serious way, and the fight is even harder, and most people don't even bother to try to smile when they stab you in the back.
If you've watched these films more or less in order, at least by section as listed in Culture by Cinema, you've now covered 150 years of American culture in as palatable and entertaining a form as I could create. Of course, if you'd rather have your history in more serious doses, you might prefer this page of wiki links.